Side Access Carbon Filters
Features:
High s

ing

le-pass efficiency

50 and 62.5 ft/min design velocity

0.25 wg resistance at 50 ft/min for 1″ trays

0.75 wg resistance at 62.5 ft/min for 2″ trays

Trays can be loaded or unloaded from either side of housing

Units contain a two inch pr

e-filter track

Standard trays are 14 gauge, cold rolled steel with a black powder coat finish

Stainless steel and galvanized trays are optional

Units can be bolted directly together or stacked to fill individual needs
Specifications:
The 2000S and 2000S2 are side access housing which are used to treat high airflow rates containing limited levels of contaminates. They are both unique in design and versatility. Being modular in design they can be bolted together or stacked like building blocks to fill various needs. While in this configuration, all filter tracks will align so the side-loading feature will not be lost. The 2000S2 is similar to the 2000S, but holds more carbon for increased removal capacity.
Unit

Carbon Trays

Rated Flow

Carbon

(Approx.)

2000S

10

2000 CFM @ .25 WG

90 lbs.

2000S2

8

2000 CFM @ .75 WG

132 lbs.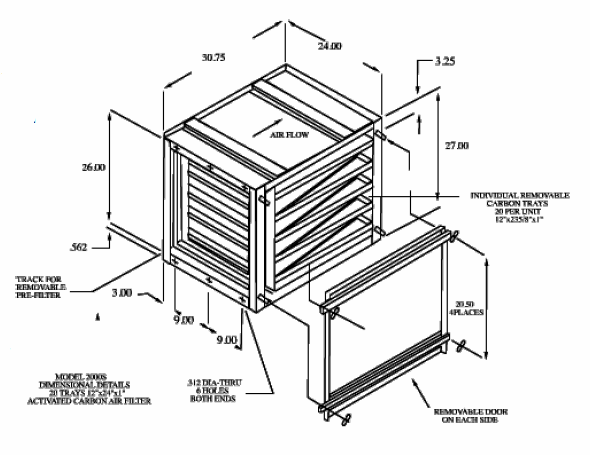 CAUTION!
Wet activated carbon removes oxygen from air causing a severe hazard to workers inside carbon vessels. Confined space/low oxygen procedures should be put in place before any entry is made. Such procedures should comply with all applicable Local, State and Federal guidelines.
FIRE!  When vapor phase activated carbon adsorbs chemicals, a heat of adsorption is given off. The treated air flow is the only way this heat is removed from the bed.  If the chemical concentration is high and the gas flow is small, the heat created in the carbon bed can accumulate to the point where a bed fire is started.  In addition, if you are dealing with flammable chemicals, understand the correct operation of your system.  If you have any questions about the fire potential of your system, please call General Carbon Corporation at 973-523-2223.