Air Pollution Control Barrels
The General Air Pollution Control Barrels are in inventory and ready to use. They are designed to treat airflows up to 250 cfm. The units are available in four different sizes to better serve your treatment needs.

Specifications

30 Gallon

55 Gallon

85 Gallon

110 Gallon

A – Diameter, Outside:

19-1/2″

24″

28″

32″

B – Height, Outside:

29″

35″

39″

43″

Inlet Fitting:

E-2″FPT

E-2″MPT

C-4″FPT

C-4″FPT

Outlet Fitting:

C-2″FPT

C-2″MPT

D-4″FPT

D-4″FPT

Drain Fitting:

E-2″FPT

E-2″MPT

E-1″FPT

E-1″FPT

Carbon Weight, lbs.:

90

150

300

400

Max Recommended

Flow Rate, CFM:

100

100

180

250

Max Pressure, PSIG:

7

10

7

7

Max Design Temp., 

Fahrenheit:

140

140

140

140

Flow Direction

Upflow

Upflow

Upflow

Upflow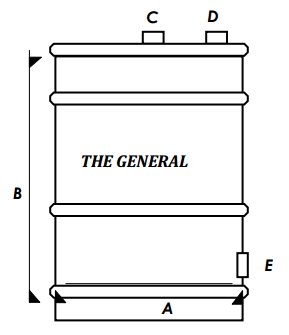 Activated Carbon – The Air General vapor phase activated carbon drum adsorbers come standard with a virgin, high activity activated carbon. Other products are available to suit specific applications. 
Removable Lid – 16 gauge lid with ring and bolt closure, poly-clad cellulose gasket.
Connections – Metal connections with standard pipe threads insure easy, durable and leak- proof hookup to your system. Unions or quick connect fittings are advised to make drum exchange easy. Drains let you remove any accumulated condensate.
Flow Distributors – The Air General vapor phase activated carbon drum adsorbers use either a carbon support screen or PVC slotted pipe to insure even air distribution throughout the carbon.  Both stainless steel drum adsorbers and internals are an option.
Paint and Lining – The drum adsorbers are provided with a heat cured phenolic epoxy internal lining and an industrial enamel exterior paint.
Installation and Startup – Simply connect the inlet and outlet lines to the adsorber and start the blower.
Maintenance -The Air General requires no maintenance other than monitoring influent and effluent concentrations and operating pressure.  Once treatment objectives can no longer be met General Carbon can provide a spent carbon changeout or simply replace the adsorber.  Please call our office for pricing and scheduling.
Recharging The General – Once the carbon has reached its pollutant removal capacity, the unit should be removed and replaced with a fresh one. To purchase replacement carbon or to arrange for a carbon change out, please contact our office.
Disposal – Dispose of the spent carbon in accordance with Local, State and Federal regulations.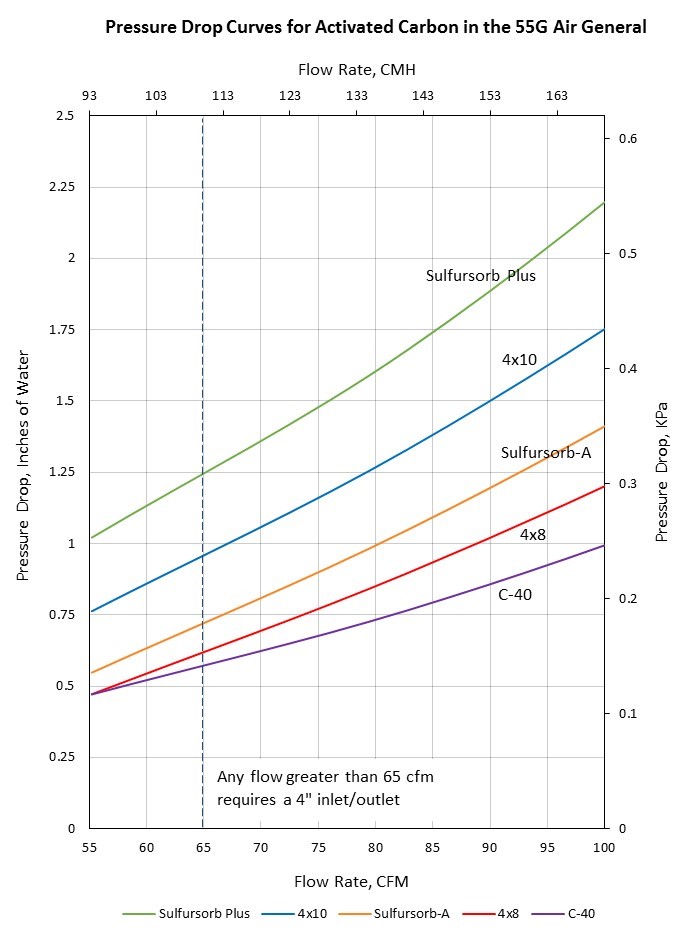 WARNING!
Wet activated carbon removes oxygen from air causing a severe hazard to workers inside carbon vessels.  Confined space / low oxygen procedures should be put in place before any entry is made.  Such procedures should comply with all applicable local, state and federal guidelines.
FIRE!  When vapor phase activated carbon adsorbs chemicals, a heat of adsorption is given off. The treated air flow is the only way this heat is removed from the bed.  If the chemical concentration is high and the gas flow is small, the heat created in the carbon bed can accumulate to the point where a bed fire is started.  In addition, if you are dealing with flammable chemicals, understand the correct operation of your system.  If you have any questions about the fire potential of your system, please call General Carbon Corporation at 973-523-2223.