Vapor Phase Carbon Adsorber
General Carbon's Roll-Off Adsorber is engineered for high airflow (up to 12,500 cfm) applications where a large carbon bed is required. Holding up to 13,000 lbs. of quality activated carbon, it is internally coated with two-part epoxy paint. Our Roll-Off Adsorber is designed for easy transportation and maintenance. A clean-out door and three manways are provided for convenient carbon bed access. These units are available for lease or purchase. Complete spent carbon change out and reactivation services are also available.

| | |
| --- | --- |
| Specifications | |
| Dimensions, (ft.): | 18'L x 7'6″W x 8'H |
| Carbon Weight, (lbs.): | 13,000 |
| Maximum Flow Rate, (CFM): | 12,500 |
| A – Manways (3), (ft.): | 2′ x 3′ |
| B – Clean-Out Door, (ft.): | 2′ x 3′ |
| C – Inlet, (inches): | 14″ |
| D – Outlet, (inches): | 14″ |
| E – Lifting Lugs: | 4 |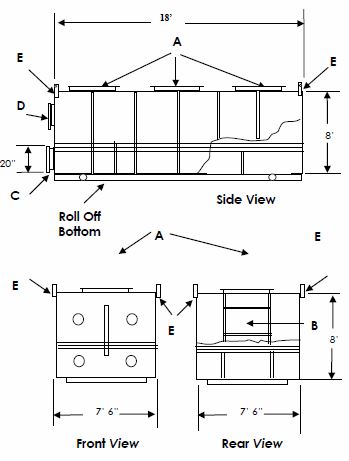 CAUTION!
Wet activated carbon removes oxygen from air causing a severe hazard to workers inside carbon vessels. Confined space/low oxygen procedures should be put in place before any entry is made. Such procedures should comply with all applicable Local, State and Federal guidelines.
FIRE!  When vapor phase activated carbon adsorbs chemicals, a heat of adsorption is given off. The treated air flow is the only way this heat is removed from the bed.  If the chemical concentration is high and the gas flow is small, the heat created in the carbon bed can accumulate to the point where a bed fire is started.  In addition, if you are dealing with flammable chemicals, understand the correct operation of your system.  If you have any questions about the fire potential of your system, please call General Carbon Corporation at 973-523-2223.