Fiberglass Single Bed Odor Control Systems
General Carbon FS/FD Systems provide a simple, cost effective solution for large odor control problems and air treatment applications. The adsorber vessel is made from fiberglass reinforced plastic for corrosion and weather resistance as well as strength and durability. All connections are laminated onto the tank during the hand lay-up process. Large manholes allow the carbon to be serviced without confined space tank entry. Internal screen, FRP grate and structural support beams are field replaceable.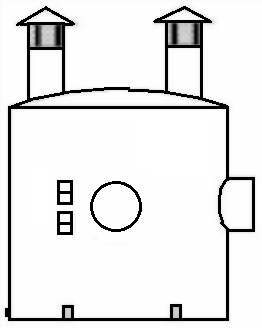 Available features include:
2-24″ Diameter Manways with FRP Covers

Inlet and Outlet Sized to Your Project

2″ Overflow / 2″ Drain with CPVC Valves

Stainless Steel Carbon Bed Ground Rod

Quality Virgin or H2S Control Carbons
"Hatch Card" H2S Indicator System

FRP Internal Support Ring and Grate

Dwyer Differential Pressure Gauge

Motor and Fan Designed to Your Job

Internal Exhaust Stacks
Model
Carbon1 (lbs.)
Flow-CFM
Single2
Flow-CFM
Dual2
Diameter
Height

FS/FD-96

3,750/7,500

1,500-3,000

3,000-6,000

96″

96″/168″

FS/FD-120

5,875/11,750

2,350-4,700

4,700-9,400

120″

120″/192″

FS/FD-144

8,500/17,000

3,400-6,800

6,800-13,600

144″

144″/216″
1Pounds of Carbon calculated using Sulfursorb Plus (25 lbs/cuft). Sulfursorb-A is 28 lbs/cuft. 4×8 is 30 lbs/cuft.
2Flow rate is calculated using a recommended maximum of 60 fpm and a recommended minimum of 30 fpm.
CAUTION!
Wet activated carbon removes oxygen from air causing a severe hazard to workers inside carbon vessels. Confined space/low oxygen procedures should be put in place before any entry is made. Such procedures should comply with all applicable Local, State and Federal guidelines.
FIRE!  When vapor phase activated carbon adsorbs chemicals, a heat of adsorption is given off. The treated air flow is the only way this heat is removed from the bed.  If the chemical concentration is high and the gas flow is small, the heat created in the carbon bed can accumulate to the point where a bed fire is started.  If you have any questions about the fire potential of your system, please call General Carbon Corporation at 973-523-2223.