Activated Carbon Odor Control Systems
General Carbon's ES-Series provides a simple, cost effective solution for odor control problems and air treatment. The adsorber is constructed of HDPE for corrosion, weather resistance and durability. All fittings are welded to the tank and vessels up to 50 inches have removable tops for easy service. Larger vessels have a 20 inch man way for access.
Standard features are:
HDPE vessel mounted on a mild steel skid

Cast Aluminum Fan (TEFC Motor) installed

Locking damper, Stainless Steel ground rod

Drain Valve and differential pressure gauge

All internals supplied and installed

Required charge of GC C-40 Activated Carbon
Options available:
Specialty carbons for advanced H2S & chemical control

HDPE or FRP fan packages

EXP / severe duty / alternate voltage motors

Electrical control panel mounted and prewired; NEMA, FRP, EXP

Stainless Steel sound enclosure to quiet fan noise

Rain hat
Model

Dia.

SS+

(lbs.)

C-40

(lbs.)

Flow: CFM

I/O

L

W

H

ES-24

24″

280

280

95 – 190

4″/4″

60″

24″

66″

ES-30

30″

450

450

145 – 300


6″/6″

66″

30″

66″

ES-39

39″

750

750

250 – 500


6″/6″

72″

36″

66″

ES-42

42″

870

870

290 – 580

6″/6″

84″

42″

78″

ES-50

50″

1225

1225

415 – 820

8″/8″

98″

48″

84″

ES-64

64″

2015

2015

670 – 1340

10″/10″

110″

60″

86″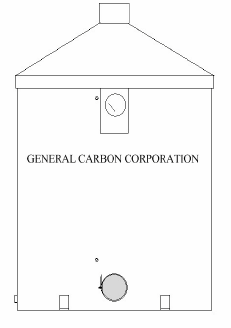 Available Options – We offer a complete selection of NEMA rated motors and controls that are prewired and skid mounted. All fans are ordered to your flow rate and static pressure requirements. Additional options include Hydrogen Sulfide monitor, custom instrumentation including alarms, warning devices, explosion proof components, carbon sample ports, FRP fans, FRP equipment skid, exhaust stack and rain hood. General Carbon Corporation can recommend and provide special impregnated carbons to enhance control of problem chemicals. When the media needs replacing we will be glad to provide a service quote. We maintain our own fleet of modern equipment and trained technicians that are able to complete any change-out service quickly and safely. Please call for a price quote.
 CAUTION!
Wet activated carbon removes oxygen from air causing a severe hazard to workers inside the carbon vessels. Confined space/low oxygen procedures should be put in place before any entry is made. Such procedures should comply with all applicable Local, State and Federal guidelines.
FIRE!  When vapor phase activated carbon adsorbs chemicals, a heat of adsorption is given off. The treated air flow is the only way this heat is removed from the bed.  If the chemical concentration is high and the gas flow is small, the heat created in the carbon bed can accumulate to the point where a bed fire is started.  If you have any questions about the fire potential of your system, please call General Carbon Corporation at 973-523-2223.