Activated Carbon Odor Control Systems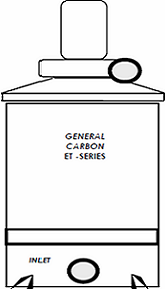 General Carbon's ET – Odor Control Systems offer a complete activated carbon solution to your low flow odor problems and air treatment applications. The vessel is constructed of polyethylene for corrosion and weather resistance as well as durability. All tank connections are welded to the tank and the top is removable for easy carbon servicing. The industrial quality fan is mounted on the top cover of the adsorber and pulls the air through the media bed. This configuration ensures that only "clean" air will contact the fan. Motors for your electrical requirements are available.
Other Features:
Epoxy coated aluminum fan

Drain to remove condensate accumulation

High quality virgin or impregnated carbons

Corrosion resistant fiberglass bed support and polypropylene retention screen

Attached feet to bolt adsorber to cement pad – no steel skid to rust
Unit

Dia.

Carbon

Flow Rate

(CFM)

I/O

Height

(Approx.)

ET-24

24″

265 lbs.

125 – 190

4″/4″

60″

ET-30

30″

400 lbs.

200 – 300

6″/6″

62″
Available Options: Complete selection of NEMA rated motors accessories. Bed ground rod, Magnehelic gauge, sample ports, alarm and warning devices. FRP equipment skid, exhaust stack and rain hood.
*The amount of GC IPH impregnated carbon needed to fill each adsorber is 25% greater than the listed amount of standard activated carbon.
CAUTION!
Wet activated carbon removes oxygen from air causing a severe hazard to workers inside carbon vessels. Confined space/low oxygen procedures should be put in place before any entry is made. Such procedures should comply with all applicable Local, State and Federal guidelines.
FIRE!  When vapor phase activated carbon adsorbs chemicals, a heat of adsorption is given off. The treated air flow is the only way this heat is removed from the bed.  If the chemical concentration is high and the gas flow is small, the heat created in the carbon bed can accumulate to the point where a bed fire is started.  If you have any questions about the fire potential of your system, please call General Carbon Corporation at 973-523-2223.